RuleSpeak®
Definition: RuleSpeak® is a set of guidelines for expressing business rules in concise, business-friendly fashion. It is not a language or syntax per se, but rather a set of best practices for speakers of English.
Purpose:
To bring greater clarity and consistency in communicating rules, whether among business people or as requirements for IT.

To capture, express and retain decision criteria and business know-how effectively.
Origin: RuleSpeak for English has been developed by Ronald G. Ross starting in 1996. It has been applied to hundreds of projects since that time by Business Rule Solutions, LLC (BRS). Versions of RuleSpeak have been available on the BRS website since the late 1990s.
Standardization: RuleSpeak was one of three reference notations used in the creation of the standard Semantics for Business Vocabulary and Business Rules (SBVR) published by the Object Management Group (OMG) in 2007. It is fully consistent with that standard.
Translation:
RuleSpeak is a registered trademark of Business Rule Solutions, LLC
# # #
---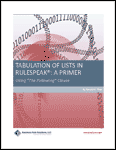 Announcing ...
Tabulation of Lists in RuleSpeak®: A Primer
The most powerful, insight-packed 16 pages about how to improve your writing in recent memory. A real breakthrough! [ learn more ]
---
RuleSpeak Partners
Approved RuleSpeak partners for English include:
# # #
More Background
To learn more about the projects and standards based on RuleSpeak, we invite you to explore these additional resources:
---
Professional Training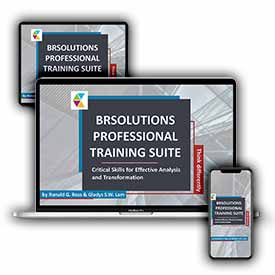 The BRSolutions Professional Training Suite is a streamed, self-paced training program dedicated to Concepts, Policies, Rules, Decisions and Requirements. Learn more: